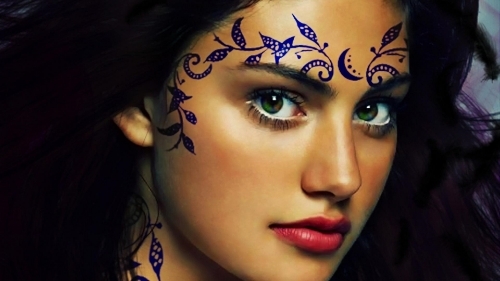 Raven Sky
Fianna / Fae
Beta / Mistress of Rites
Elder Theurge
PB 4 Fianna/Fae
app of 5- An Alluring Exotic Beauty ,
Char 4,
Faeblood 3,
,Title Lady.
Age- 28
Eyes: that change from Dark forest green to bright glowing emerald green. With sometimes a purple glow.
Hair:With dark reds and blues through her black hair. Now with strikes of green in her bangs
Mate to EmeraldGrizzly
Markings- Besides the scars along her back, and chest from numerous battles she also has these interesting tattoos she had done by her family int he dreaming (where the fea are.)
she's also know as mistress of storms or lightning mistress
They glow sometimes with the power of her emotion's, of course she can hide that when she has too. She also had long white and purple angel like wings. (Lillith's are Black and red demon like, while Jaden's are blue and white draconic like. Just to make sure the difference is seen)
Has four children pb3
twin three-year-olds
Marcus Vandal Skye and Aurora Monroe Sky"
eight-year-old little girl Adaline Victoria Sky
who has Dark blue almost Midnight blue hair with bright glowing emerald eyes.
ten-year-old little boy Ember Graves Sky
who had dark red hair and the same bright glowing emerald eyes as his sister, mom and dad.
The kiddos and Raven are known for using the small bit of Fae magic they have to spice up the area and play tricks too.
fae light, can snap or wink and turn lights off can lift things that are less than 3 to 5 lbs. Does no damage just messes with others.
Admin




Posts

: 33


Join date

: 2016-07-20


Age

: 34


Location

: Az Phx





Similar topics
---
Permissions in this forum:
You
cannot
reply to topics in this forum